My name is Sandi Huynen, and I provide mortgage broker services in Winnipeg, Manitoba. It is my goal to find my clients the best mortgage rates possible whether it's a new home, mortgage renewal, or refinancing. If you're selling your home, I also want you to get to dollar for your home, so I wrote these seven tips to help you do just that!
Are you trying to sell your house? Before you plan on selling your property in Canada, there are some tips that can help with increasing its resale value. Not only will this help you sell your house at a higher asking price, but you'll also beautify your home, making it a must buy for people looking for a new home.
Make Sure Your House Looks Clean
The cleanliness of your house speaks volume for your overall property. A clean house looks safe, comfortable, and honest.
Homebuyers will feel more comfortable investing in a clean house because it spells high maintenance and care. Check for any hidden issues, termites, bugs, or other issues within your property.
Your bathrooms, bedrooms, and kitchen should all shine. If you don't have time for the task, consider hiring a cleaning company to help make your house appear spotless.
From the sinks, fixtures, windows, dishwashers, to the door handles, everything in your house needs to look inviting and interesting to potential buyers.
Seek for professional assistance
It can be hard to find out where, to begin with increasing your home's value, so it's best to get help from an expert. Most of the time, it won't cost a thing. You should think about hiring an interior designer so they can provide you with a lot of ideas that are specific to the condition of your home.
Alternatively, you can hire a home inspector, add a cooling/heating audit can give you some tips to improve your home's functionality. And they will help you find some unforeseen issues that can become a bigger problem overtime.
Inspection
Whether you decide to get a handyman, realtor, or a designer for your home, you have to go through a thorough inspection first. Take a look at the house and start examining the paintings, furniture and appearance of your home.
These small little changes can make your house appear more comfortable, thus increasing the resale value of your house. If you do plan on hiring a pro, expect to pay at least $100 an hour for their input and services.
After looking at the design, you should also check the roof, electrical systems, heating, and the AC. Stay ahead of any unexpected issues by making sure everything runs smoothly and everything is checked out.
Inspectors will help you find the issues that can decrease the value of your home. Don't postpone any quick fixes and pay attention to their advice.
Focus on the Kitchen, Yard, and the Bathroom
The areas that receive the most activity in your home are the kitchen, bathroom, and the yard. Here are some ways that you can make them appear presentable to your future buyers.
Landscaping
Want to make your backyard beautiful? Hire a few landscapers to help look at the current design of your yard and help make improvements to it.
This is valid for planting trees and landscaping. Shade trees can make your house more desirable and make your yard beautiful. Also, the right placement of the shade trees can decrease the cost of your cooling expenses in the summer months.
Plants and trees add some curb appeal to your house. This will bring in potential buyers that are willing to spend money for a high-quality garden with mature trees.
Kitchen Updates
By updating your kitchen, you should replace the furniture and upgrade your hardware. Install some task lighting, exchange your older microwave with one made of stainless steel. And if your countertops are worn out, don't hesitate to get them fixed as well.
Bathroom
To upgrade your bathroom, install fixtures, fresh any outdated caulking, replace your current shower, add a new sink etc.
Improve Your Lighting
Changing out lighting fixtures can make a difference in your home. Making sure that the lights are in the same style and the finishes match is a great start. Most lighting brands will have a few styles in their product line that look similar and complement each other.
Using daylight light bulbs help with brightening up the space. Bright and light spaces are more valuable than darker ones, so get the best lighting according to your budget.
Install New Fixtures and Water Filtration System
This will improve the appearance of your kitchen while cutting your monthly grocery bills in half. Water filtration systems are easy to install, and they provide purified water 24/7.
You can also look into energy efficient fixtures for your house. Think about buying air conditioning filters, ceiling fans, and light switches that have customizable settings. Combined, all of these make your rooms appear more updated and raise the selling value of your house.
Repaint Your House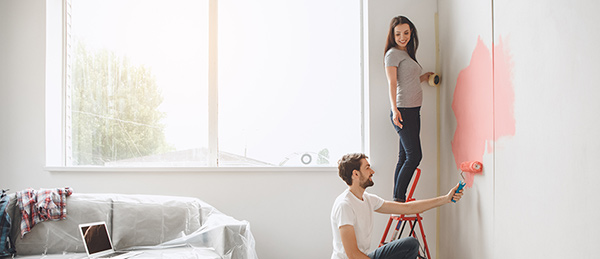 Paint is a cheap but effective way to add some spark to your house. Adding a new coat of bright paint can brighten up dinghy and dark rooms. Painting the doors and the trim can give your house a fresher look. In fact, buying paint costs less than $100, so you can change the appearance of your room within a few hours of manual or hired labor.
To conclude, you don't have to spend thousands of dollars to enhance your home. Simply inspect it regularly, keep it clean, and add small features to your house over time. By doing this, you'll gradually increase its value, making it a great home for your family or make it easier to receive buyers if you do plan on selling it.